People date online. People travel online. They even do sports online! And of course, they buy products and services online too. Obviously, you can't do without online marketing nowadays. In this article, we will delve into the software tools that a small business owner should use to implement an effective online marketing strategy. Keep reading!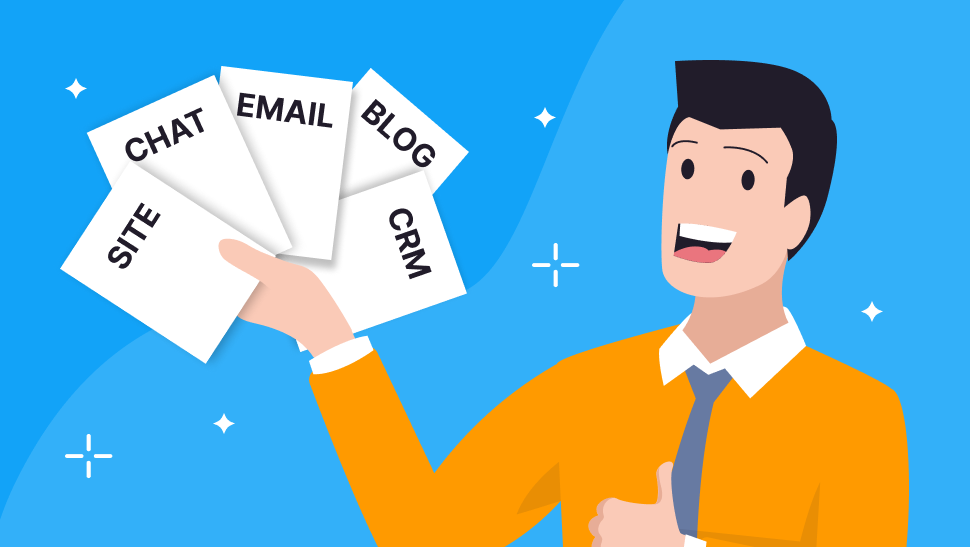 Table of Contents
What Is Online Marketing Strategy?
Well, strategy is actually a military term that denotes a profound plan on how to defeat an enemy and win. When we talk about online marketing strategies, we mean a clear plan implemented to achieve specific business objectives and attract customers through the use of various marketing activities, such as website marketing, conversational marketing, content marketing, email marketing, drip marketing, etc.
There are four common strategic tasks that online marketing is to accomplish.
Increasing brand presence in the market. The goal is to capture as large a share as possible in a niche.
Sales growth. The larger your market share is, the more customers you have, and customers bring sales. Proper marketing should stimulate the activity of buyers.
Increasing profits. The more sales you have, the higher profitability of the business. Unless you're dumping, of course.
Brand positioning. Your target audience must understand the value of the product and associate these qualities with the brand. If people don't have a clue about your product's features, then don't expect sales.
To solve these issues, you need to study your target audience. Without a clear understanding of who you are selling to, it is difficult to get a good result. As far as your product is concerned, you should clearly define the unique selling point (USP) so that customers understand how your product will benefit them.
The complexity of an online marketing strategy depends on the size of the business and its goals. For some, a couple of Instagram posts and a landing page are more than enough, while others cannot do without AI-powered chatbots, blogs, and email newsletters. It's obvious that the more sophisticated your online marketing strategy is, the more software tools you need to run it. And these tools are countless!
In order to not be sprayed, we'll explore the most important online marketing tools.
Website Builder Software
To make itself known online and increase the visibility to prospects, a small business needs a website that will act as a hub for all the information about the business: product or service offerings, contact information, customer reviews, and whatever pleases. Such a website can provide a sense of credibility and legitimacy to the business, encouraging customers to trust the brand and make a purchase. It also allows a small business to compete with larger companies by establishing a professional image and expanding its reach to a wider audience.
Moreover, a website can also serve as an online store, allowing customers to purchase products or services at any time.
There are three main ways to make a website. You can develop it from scratch with code, use a ready-made platform like WordPress, or use a visual no-code website builder. And the last option is the simplest and most profitable.
For example, with TruVISIBILITY's Sites application, you can easily create a website on your own. To simplify the process, you can use ready-made templates. At the same time, you do not have to solve such problems as adapting the site for mobile devices, buying hosting, and installing an SSL certificate — TruVISIBILITY will do all this for you.
Blogging Software
Does a small business need a blog? Yes, it helps to communicate with customers and attracts traffic to a website through search engines, since each blog post gives an opportunity to target specific keywords and topics that your customers are searching for. Also thanks to the blog you can establish yourself as an industry expert.
But how to create a blog? Should you choose a free blogging platform, such as Medium, or something else? Well, if you want to drive traffic to your website, then the blog has to be deeply integrated into it. And that's something you can't do with external blogging platforms.
The above mentioned WordPress allows you to add blog functionality to your website, however, for the sake of simplicity it's better to turn to TruVISIBILITY Sites application again.
In TruVISIBILITY's Sites application, you will find a Blog widget. Just one click — and you have a blog with a visual editor integrated into your website. This tool is simple, yet very powerful. You will be able to enrich your articles with images and videos, categorize articles and use tags, edit SEO settings and social media previews, schedule publishing, and more.
Email Marketing Software
Email marketing is known for an extremely high return on investment (ROI) — for every $1 spent on email marketing, the average return is $43! This tool is one of the most cost-effective ways to engage with customers. Sure, a small business can survive without email marketing. But it may be missing out on a valuable tool for customer engagement and conversion.
Email marketing allows you to directly, in a personal way communicate with customers and leads providing them with relevant and targeted information on products, services, promotions, events, and thus keep happy relationship with them. You also can automate welcome emails, abandoned cart notifications, and responses to customer complaints.
To learn more, read our article: How Email Marketing Is Effective: Why It Works & How to Do It Right.
TruVISIBILITY's Messaging application is the software that enables you to do all that stuff. However, it's not just an email automation tool, but also an editor for crafting beautiful emails. Don't worry, if you don't have a clue about design. We have prepared dozens of purpose-driven templates for you, and all you need to do is just customize them — change the text and images.
Chatbot Software
Imagine that you suddenly have a super employee who can engage in customer communication 24/7/365. That guy answers those endless routine questions, qualifies leads and passes to the sales agent only those who are willing to make a purchase, and collects vital data from your website's visitors.
Sounds like we're talking about a really valuable, highly paid employee, right? Well, actually those are functions of a chatbot — software that simulates human conversation, a main tool of conversational marketing.
Chatbots are usually divided into two types — rule-based and AI-powered. The former can be very simple, designed for answering frequently asked questions or collecting data, such as name, location, and e-mail address for a contact list. The latter can do much more, thanks to AI they can detect customers' intents and thus give an answer to any question your customer may ask.
Assembling a chatbot is not a hard task. As we explained in the article Chatbots Are Now Easy To Build, you don't need to know how to code, just use TruVISIBILITY's Chat application. Within its visual editor, you can build any chatbot — both rule-based and AI-powered. For an easy start, we provide you with ready-made templates.
---
Register a freemium TruVISIBILITY account and get unlimited access to fully functional marketing software free of cost!
As your business grows, you only pay for what you use without any contract. A freemium TruVISIBILITY account allows you to:
Create a chatbot that can conduct up to 100 conversations per month
Launch email blasts, start drip campaign, etc with 1000 free emails sent monthly
Send 1000 SMS texts per month
Build 1 website including a blog
1 GB of storage usage
1 SSL certificate
Unlimited API usage
The pricing is based on usage over the free monthly allotment. Thus it is extremely affordable for small to medium businesses. You can adjust the number of conversations your chatbots can have, the number of emails and SMS that can be sent per month, the number of websites you can deploy, and the capacity of your cloud storage. Simple and flexible!
---
CRM Software
Data loves order and analysis. That's why the more customers a small business has, the bigger the need for CRM is. CRM (Customer Relationship Management) is a tool that helps you to manage interactions with customers and leads. It's used to document, organize and analyze customer data in a database, getting insights into their buying behaviors, preferences, and needs. Thanks to CRM you can better understand your customers, provide tailored services, and build long-lasting relationships with them.
Well, it looks like CRM should be the hub around which all other applications revolve, right? That's why it's best to use CRM from the same vendor as chatbot software, email marketing software, blogging software, and website builder software. And luckily, we at TruVISIBILITY can offer a CRM to you — alongside Chat, Messaging, and Sites it's an integral part of TruVISIBILITY All-in-One Marketing Suite.
TruVISIBILITY to release CRM App 2nd quarter 2023.
Conclusion
So, what software do you need to run your online marketing strategy? Actually, quite a lot of apps! One to build a website with a blog, another to make email marketing, the third for chatbots, and the fourth for CRM.
But fortunately, everything turned out to be not so scary, as all those apps can be an integral part of an all-in-one marketing software platform.
Get a freemium TruVISIBILITY account now, fall in love with Sites, Messaging, and Chat apps, and stop bothering about choosing marketing software!
Want to receive more articles?
Sign-up for our weekly newsletter to receive info that will help your business grow