Сustomer support is one of the top priorities for a business owner since it is the key to a positive customer experience. However, good customer support comes down not only to a team of smart experts who are willing to help people. You also need to make sure that your support team can be easily reached by customers and that its response is quick. And this is where live chat tools enter the scene.
In this article, we'll discuss how adding live chat to your website helps your business and compare it to other customer support channels such as phone and email.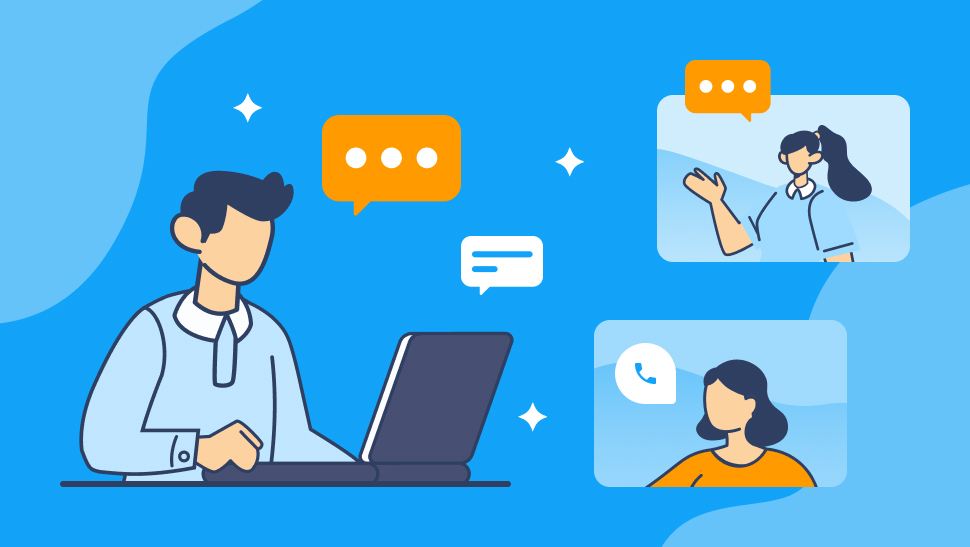 Table of Contents
What is Live Chat?
Live chat is software installed on your website that enables the visitor to exchange instant messages with a live agent. The communication takes place in real time, hence the customers get quick responses to their queries in a comfortable, convenient way.
1. Faster Response Time and Greater Convenience
At what point do you think a person decides to contact support? Very simple. The one when they have a problem they can't solve on their own. And this problem is usually urgent. For instance, they added a product to a cart and were about to pay, but something went wrong and their payment just didn't get processed. At this point, some of your customers would probably give up and switch to your competitor.
Meanwhile, the stubborn ones will try contacting customer support, and 79% of them will choose to address live chat when they seek an urgent solution, states Invesp.
But why do those 79% choose Live Chat among other channels? Can't emails and phone calls provide quick responses?
Well, the fact is that the average response time for emails is around ten hours. And even if a customer got a response, that doesn't mean their issue is solved. In most cases, a support team may need additional information, so a customer gets drawn into a long correspondence with breaks on weekends.
As for phone calls, typically it takes from a couple of minutes to hours of waiting on hold in a call queue to get to a customer support agent. Often that channel just can't provide decent support! And just great in providing frustration.
For instance, if your business is international and your customers are non-native English speakers with a specific accent or don't speak English at all. In such cases, your customers and support team will be divided by a language barrier that is extremely hard to break.
Moreover, there are a lot of people with phone anxiety, they just avoid calling because of fear. There are a lot of situations when making a phone call is just not convenient. And there are a lot of issues that are easier to show than to explain.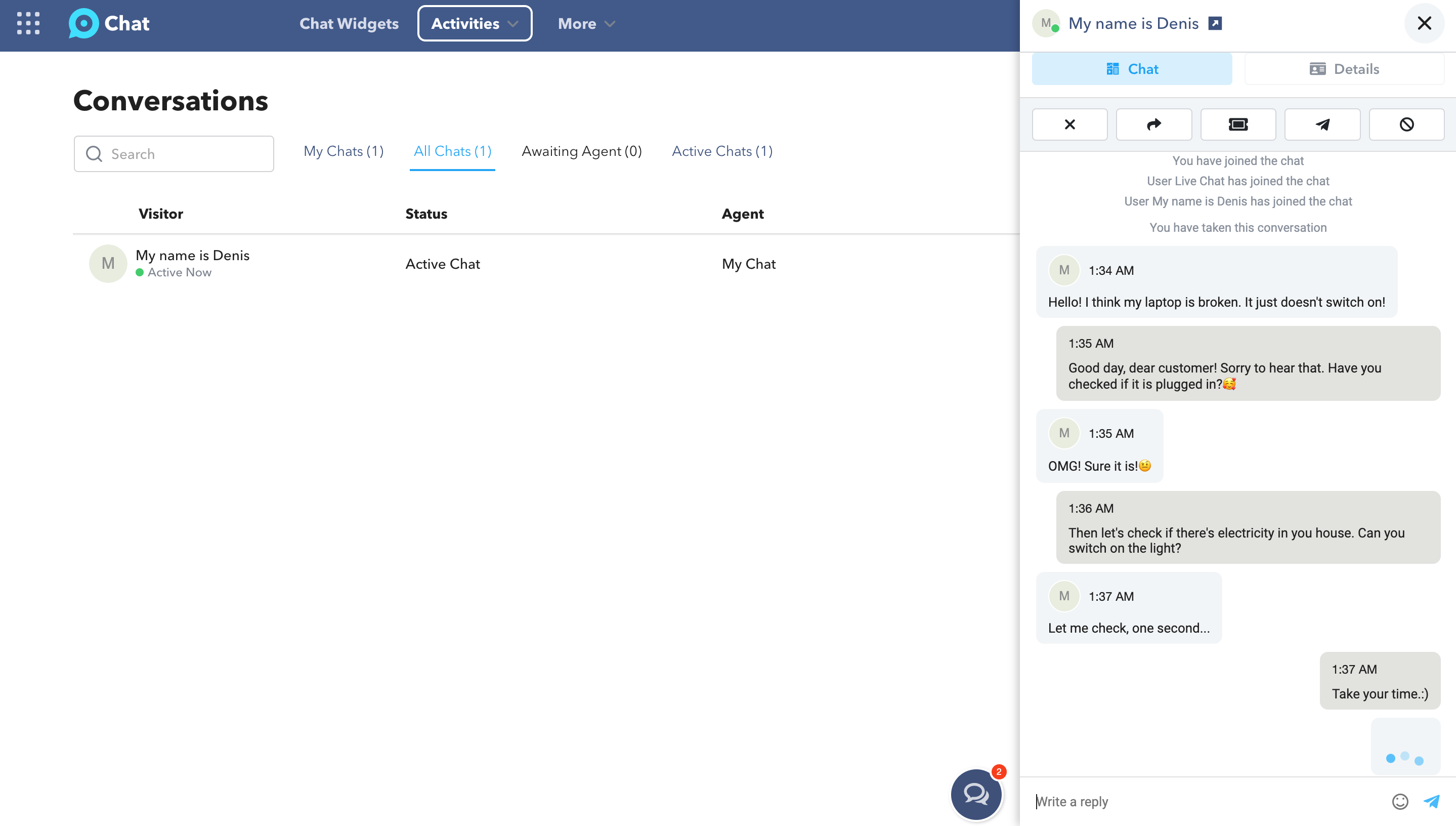 To keep a long story short, we can give you hundreds of examples of why emails and phone calls are bad for customer support. But is a live chat good? Is it the next generation of customer support channels? Well, actually, yes it is.
With live chat, customers get direct and instant access to support staff allowing them to address their queries right away and be sure they will get a quick reply. Although your customers might have to wait a bit for a response, they won't be glued to their phones and computers. They are more likely to stay on your website and actually get their questions answered rather than leaving in frustration due to slow response times. Plus, while chatting in real time it's super easy to exchange additional information, such as images, links, and files.
2. Increased Efficiency and Cost Savings
With a live chat, your customer support agents can multitask. They can take on several chats and support cases simultaneously while still giving each customer personalized attention — something that isn't always possible with other customer service channels like a phone where a single agent typically handles one call at a time which increases wait times considerably.
Thanks to multitasking the efficiency of your customer support increases, there's no need to expand the team, and as a result, your stuff costs drop.
Besides, adding a live chat to your website costs you nothing, and onboarding new employees is easy. Phone customer support requires a separate space and proper equipment for high definition voice calls. The staff has to memorize and recite canned opening and closing statements, be experts in oral communication and listening, and ready to get glued to their workplace.
Meanwhile, a live chat-based support agent needs just a laptop or even a smartphone.
---
TruVISIBILITY's Chat application allows you not just to create sophisticated chatbots with artificial intelligence for customer support automation, but also to set up a live chat. Your live agents can communicate with customers via a web interface or TruCHAT mobile app for Android. To deploy live chat on your website, just sign in for a TruVISIBILITY freemium account. And you needn't pay a cent for it!
---
3. Improved Customer Engagement
Customer engagement is building and nurturing relationships with your clients. It's the art of attracting and retaining them. With live chat, you can quickly establish a personal connection with your customers and provide them with the answers they need in real-time. This helps to build trust and credibility between you and them.
Customers can quickly receive accurate answers to their questions directly from you, instead of searching through web pages or FAQs to find what they need. This leads to happier customers as they no longer have to wait days or weeks for an answer.
If a customer has an issue that requires additional attention, live chat agents can work one-on-one with them until their issue is resolved.
Furthermore, live chat's on-the-go accessibility also makes it ideal for mobile users who may not have access to computers or laptops when they have a question about your product or service. With live chat, these customers can instantly connect to you from any device for assistance.
This is especially beneficial when it comes to onboarding new customers since it allows them to get help right away without having to navigate sophisticated menus or search through web pages first.
Thanks to live chat, your customers will feel like they are valued and important which will ultimately lead them to become loyal patrons of your business over time.
4. Combining Live Chat With A Chatbot
You can easily combine live chat with a chatbot and thus get all the benefits of automated customer support such as 24/7/365 visitor interaction and segmenting users.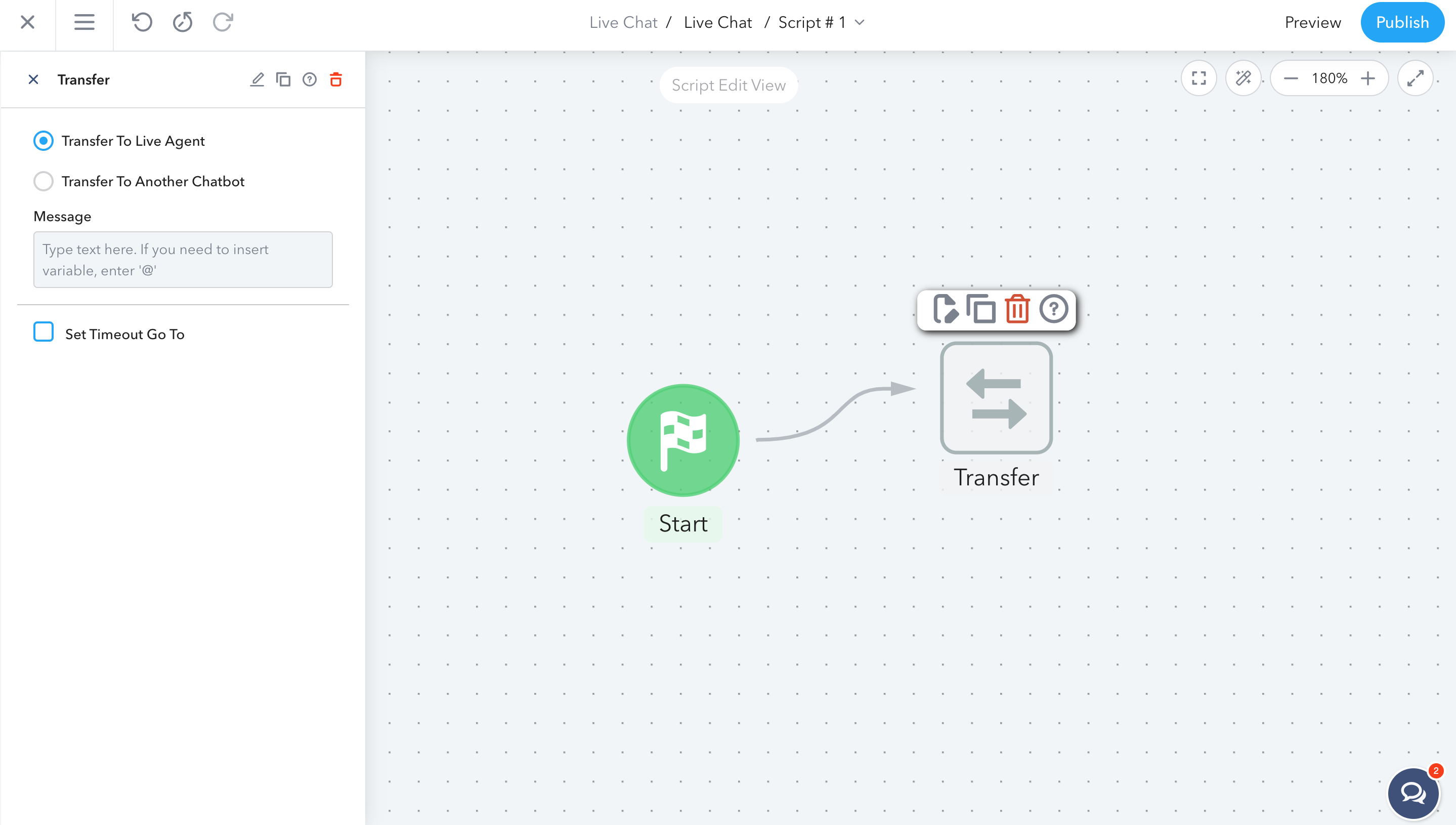 There are three types of chatbots — simple rule-based, AI-powered, and hybrid which combine both rule-based logic and AI. All these three types of chatbots can work together with a live chat application. You just need to define a step that leads your chatbot to call for a live agent — and that's all.
---
With TruVISIBILITY's Chat application, you needn't know how to code. All the work is done inside a visual builder. When your chatbot with a live chat function is created, deploy it on your website or other channels such as Telegram, Facebook Messenger, or Slack.
To create your bot with a live chat function, register a TruVISIBILITY freemium account right now.
---
24/7/365 visitor interaction means that your prospects and customers will have an opportunity to address their queries at any time, even if your live agents are sleepings.
Segmenting users allows you to free your live agents from answering simple questions. Let a chatbot with a FAQ list under the hood do that. If a question is complicated and breaks through your chatbot's knowledge base, it will be routed to a human.
How to Provide a Great Live Chat Experience
Although live chat is an amazing tool to handle customer support, it can give a negative experience too. Here are some tips on how to avoid poor user experience.
Be Available
Make sure you always have someone to reply to a visitor if your live chat is displayed as available. Set up a schedule when your live chat widget is active or use a chatbot to scale your customer support service.
Make it Easy
Starting a live chat should be effortless for a visitor. Meanwhile, many businesses use pre-chat forms to collect personal data such as name, phone, and email address. People hate that and many of them would rather give up live chat and leave your website instead of giving you their information.
Give a Personal Feeling
Don't overuse canned responses. As an impersonal pre-defined piece of information, scripted answers should be served with a personal feeling. Otherwise, your live chat support service will gain the fame of being stupid and unhelpful.
Keep Calm and Be Polite
Always keep your composure and be polite. Even if your customer goes off the rails, don't give in to provocations. Remember that every single word that might felt as insulting will be screenshot right away and spread over social media.
Conclusion
Live Chat has many benefits over traditional customer service channels such as phone and email. Faster response times, cost savings, improved customer engagement, increased efficiency, and the ability to combine it with a powerful AI-driven chatbot for 24/7/365 coverage.
So if you're looking for an efficient way to provide quality customer support on your website and other channels, consider adding live chat today! It could be just the thing you need to help take your business's online presence up another notch!
Stop wasting money on old-fashioned customer support channels and deploy TruVISIBILITY's live chat on your website today without a single cent spent! Sign in for a TruVISIBILITY freemium account now!
Want to receive more articles?
Sign-up for our weekly newsletter to receive info that will help your business grow