Many software companies are including an online drive where users can store their documents and other information. Sometimes this is a safe and convenient method if utilizing other features of the software.
There are money-saving and space-saving reasons why many businesses are turning to online drives as well. But how secure are they? And exactly what kinds of documents can you store in an online drive?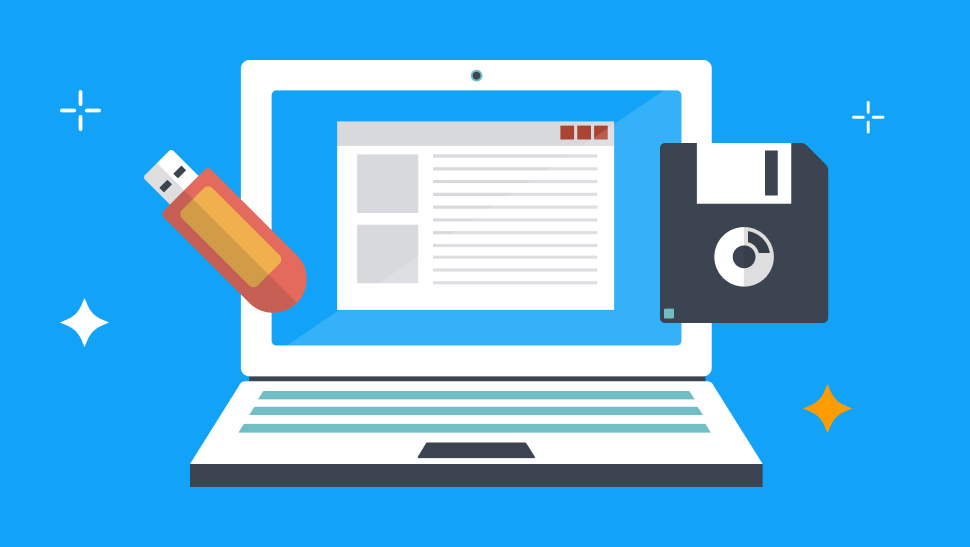 Table of Contents
What Are the Benefits of an Online Drive?
Let's start with what an online drive is. Think of the Cloud. You've surely heard of a Google drive, which gives you 15 GB of free storage. That is what an online Drive is and many Saas companies are jumping on the bandwagon. But is it a good idea to invest time and storage space in an online drive?
You may ask: why not just store everything on my computer? This is not always logical for businesses who need more space than an individual. Let's go over some of the benefits of an online drive.
Saves Space
Do you know what annoys business owners? Not having enough space on their computers. They may have an external drive to be safe - which we are not saying isn't smart - but you can save GB and even TB space by using an online drive. Go ahead and erase the less sensitive documents on an online drive!
Makes Working with Software Easier
A lot of online software out there today have their own drives. Sometimes, they only allow you to upload certain types of documents (such as only jpeg images but not png images). Some allow you to upload documents that have nothing to do with the software you are using.
Overall, if you are already using a software for their email application for example, it's much easier to store emails and other documents (like images) for use in your emails at a later time.
Can Ensure Security
Though no online software should encourage an individual or business to keep their financial documents or very sensitive material on an online drive, most online drives are safe.
Google does have access to your data and documents, but there is a way to make it more secure. There are ways to encrypt your data, if you're particularly concerned about privacy. Encrypting your files using an encryption service before you upload them to the cloud ensures that no one can scan or view them without your permission.
Can Be More Shareable
Have a team working on a project? You may be the leader of a project, but giving each team member certain access to particular documents and not others may be appealing to some businesses.
You can also favorite certain folders or documents. This way, team members will know to either work on those projects or ignore them if they are your personal favorites that you access regularly.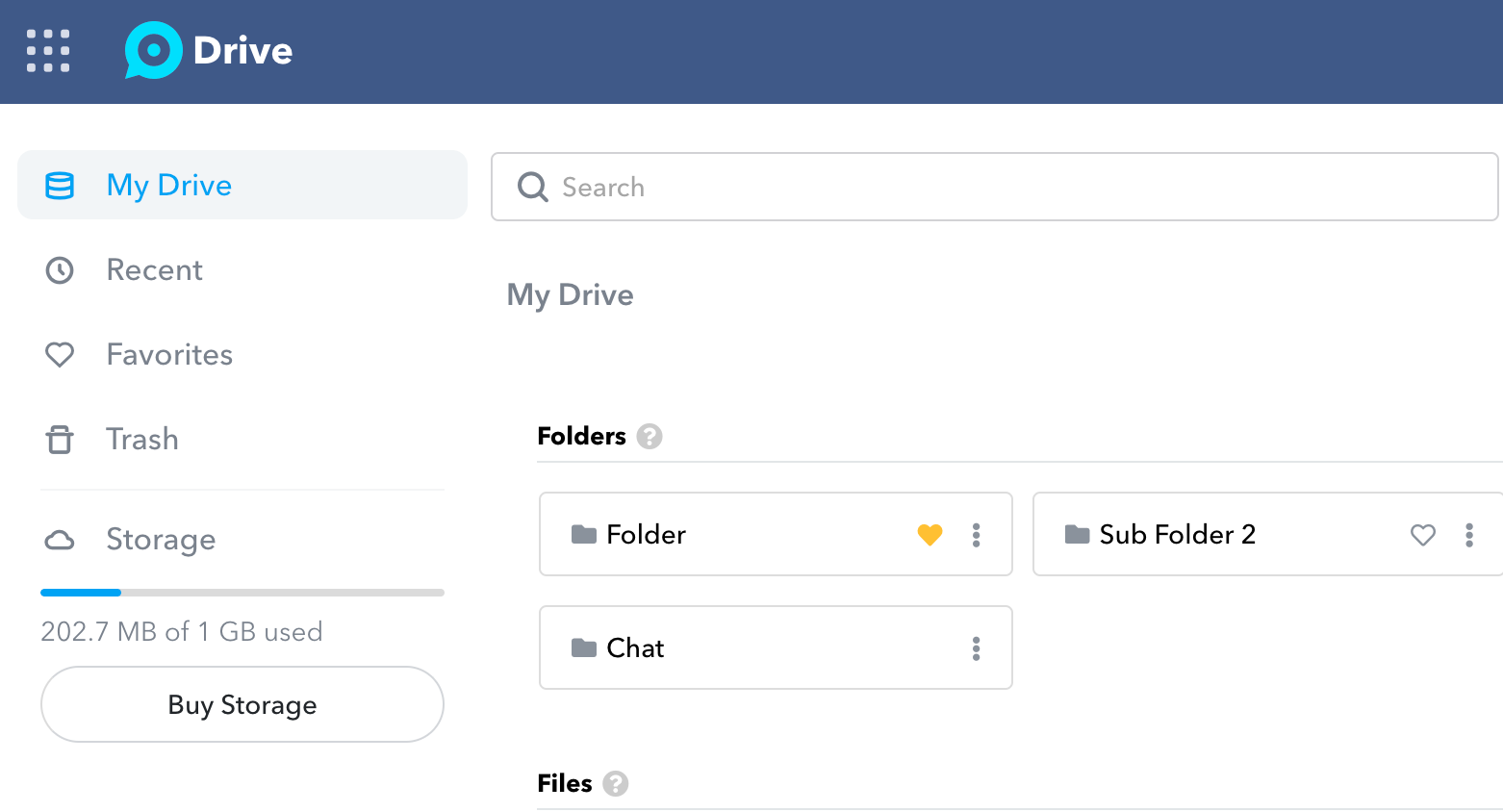 What Can You Store on an Online Drive?
Here's the ultimate question that will determine whether you invest time, space, (and sometimes money) in an online drive. What can you store in the Cloud?
You can be creative with the types of documents you can store on an online drive. It all depends on the space available to you, the function and purpose of the document, and if the document needs to be shared.
Different Types of Documents
Your documents can contain any information that's valuable to your business, albeit certain very financial sensitive material. Even then, some financial copies of documents can be stored in a secure online Drive if the business owner or CFO ensures they are the only ones with access to them.
What are some examples of written documents? A lot of docs businesses have will contain a lot of text, graphs, or tables, such as:
Excel or excel-like sheets

PDFs

Word docs

Google docs

Notepad or similar text pages

White pages (such as "Standard Practices" sheets)

Docs with graphs and statistics

[Example image of pdfs, docs in truVIS Drive]
You probably noticed some of these docs may have imagery in them, such as docs with graphs. This is okay! Let's go over imagery next.
Imagery and Video
Yes, you can place images and videos in your online drive. Each online drive, depending on the software company, will only allow certain document types. Images that are JPEGs or PNGs can usually both be stored, but not always.
Video, in particular, can also take up a lot of space. But if it is meaningful and valuable to have online for your business to keep and use, then you may need more storage space. Luckily, nearly all software companies offer options to expand your storage space if needed!
Emails
Have drafted emails that you may want to keep for future use. These emails can include images, background colors, etc. You can even store copies of your email data in a sheet on an online drive as well as your contacts.
Group Projects
Group projects can seem daunting. But you can keep those group projects stored for use by every team member who has special access to an account. In fact, one drive can be accessible to multiple users.
There is one thing you will want to look for in an online drive if considering storing team projects or documents. Make sure you can either have your own account that is accessible by different users or pick and choose the accessibility of each person working for your business.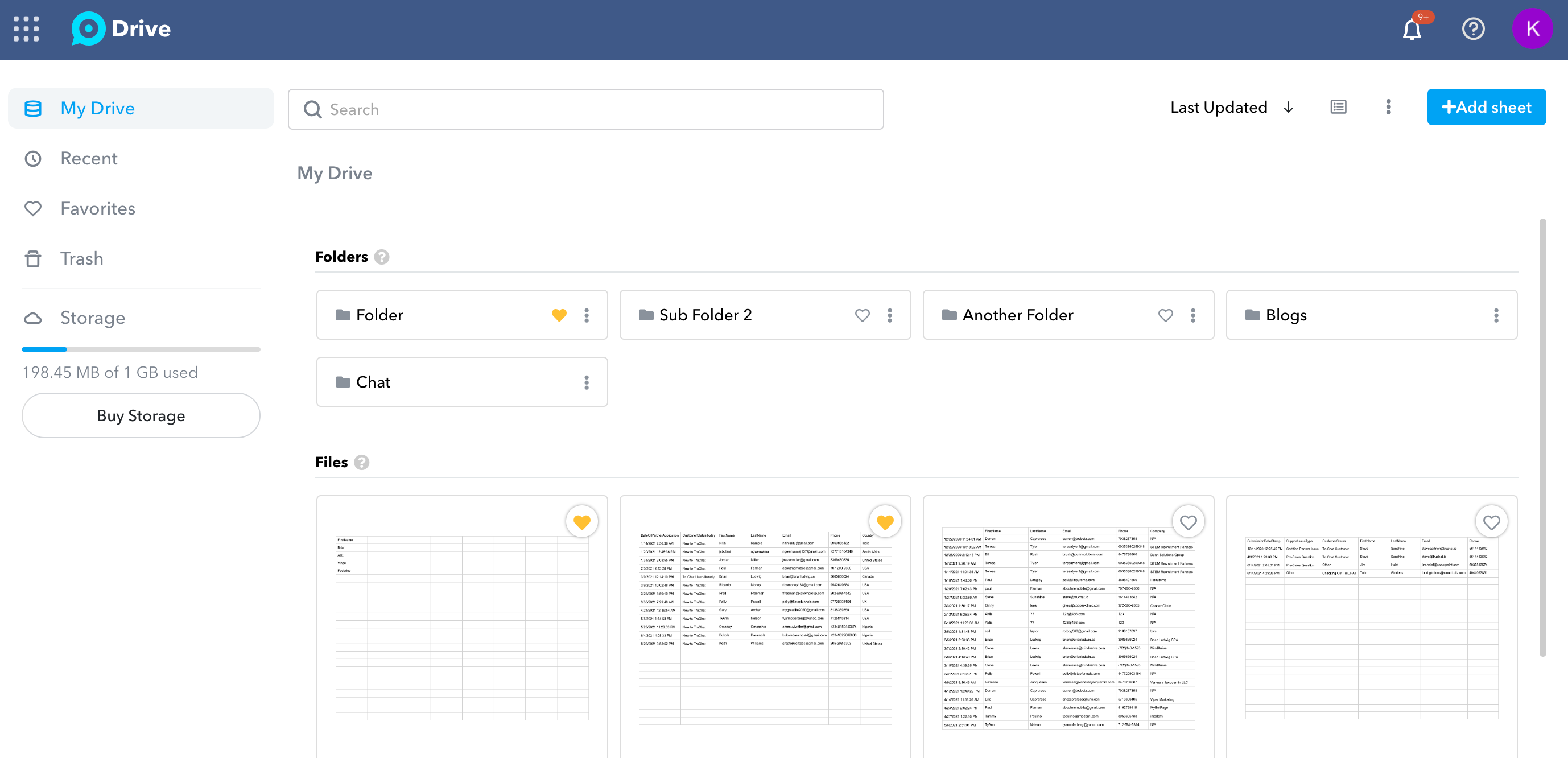 Benefits of Using TruVISIBILITY's Drive
TruVISIBILITY is proud of the fact that the apps can store more than just basic documents. You can store countless items (like graphics and excel-like documents) for personal use or to use with a team of people on a project. Let's go over the top benefits of using TruVISIBILITY's Drive over Google drive and other online drives.
You Don't Have to Worry About Security Issues
TruVISIBILITY's Drive is not connected to Google. This way, you will not have to worry about security issues due to Google's access. Also, TruVISIBILITY does not access your drive or use your data, unlike Google.
Can Easily Access Your Documents from Anywhere
Anywhere you have access to the web, you can log into your account and view the documents and folders in your drive. This means you can view documents that are viewable on mobile devices while on the go using your cell phone or tablet.
Affordable for More Storage Space
For 100 GB of space on a Google drive, it will cost you about $2 per month. Even other online drives, like dropbox charge more than that per month, depending on what you need to store on your drive.
Luckily, you can start storing your documents, videos, images, and more on TruVISIBILITY's Drive for free today. Even if you want to save copies of valuable documents somewhere else, it's better to be safe instead of losing the only copy of your documents.
Conclusion
You've now learned the benefits of having an online drive to store some of your most precious information. And we hope it is easy to see what wide range of documents you can feel safe storing in the cloud.
TruVISIBILITY's platform allows you to store everything from email templates, images, and more for either personal use or to use for any of the apps, such as Messaging or Sites apps. As always, it is free to use for as long as you like the service!
Want to receive more articles?
Sign-up for our weekly newsletter to receive info that will help your business grow