There are more than 7.8 billion people living on the planet Earth. And there are 4 billion email addresses. Of course, not every email address corresponds to a living person, and we are not saying that you can send emails to half of the world's population. But still — the number is huge! Here are two more facts: an average office worker checks their email over 30 times in an hour. And the same worker receives around 121 emails every workday. All those numbers mean that email is a powerful marketing channel. This article covers 13 practices on how can we do email marketing effective.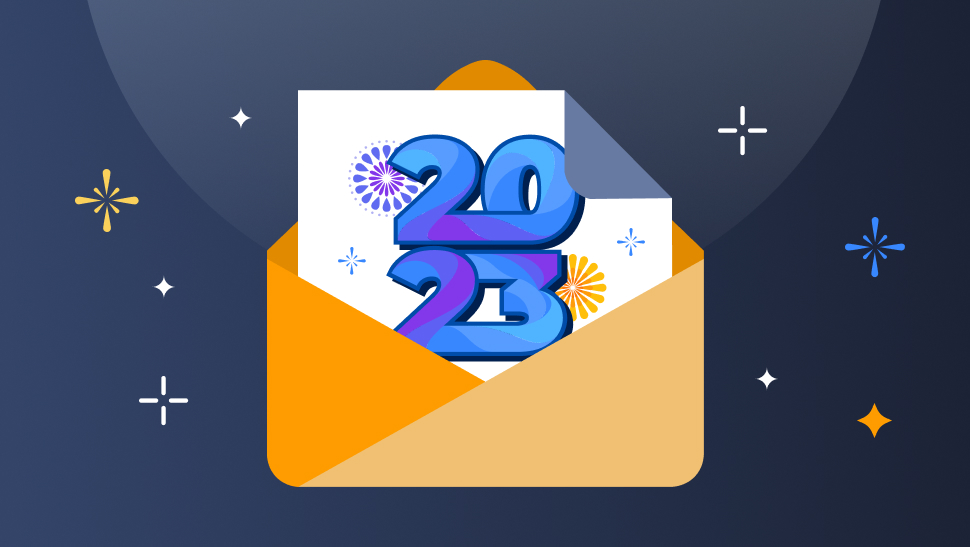 Table of Contents
What Is Email Marketing?
To put it simply, email marketing is a type of direct marketing. It is about promoting your business by sending email newsletters. Here's the list of what newsletters can do.
Guide customers down the sales funnel
Provide important information about the order and its delivery time
Teach subscribers how to use the product
Revive dormant users, make them interested in the company again, and buy
Distribute content from the blog and other channels
And much, much more
Email marketing is a low-cost method for reaching customers and it is known for its extremely high ROI (Return of Investment). The rate is up to 45:1, which means that every dollar spent on email marketing brings you 45 dollars in return. That's even more profitable than crypto! (Joking).
So It Is About Sending Emails. But Is Email Marketing Spam?
Not at all. Although a primitive marketing emails sendout can turn into a spam campaign for sure! See, one of the main ideas of email marketing is sending newsletters just to those clients, who previously agreed to get them by sharing their addresses with you. Spam, in turn, implies carpet bombings with emails. There are rules that help you to set up your email messages in a way that Gmail or other email services wouldn't label them as spam. Look at this list carefully.
Don't buy email lists. Make one yourself by collecting email addresses with a help of a chatbot and/or giveaways
Don't add people to your email list who have not explicitly opted in. They will unsubscribe and hate you. Because people hate spammers
Provide privacy policy information upfront. It will protect you from unpleasant situations
Ensure unsubscribe buttons are easy to find in your emails—and honor opt-outs
Don't use deceptive language in your marketing emails. Avoid email spam trigger words, the worst of which is «free». Check the list of email spam trigger words by Hubspot
Provide mailing address information in your emails. Such a law
Make sure your email campaign is compliant with CAN-SPAM Act in all forms. Now, what should you do to launch a successful email blast? Keep reading!
Make a Clear and Simple CTA in Your Emails
Call-to-Action (CTA) is an element that urges your leads to do something. It can be text, an image, a button, etc. And its message must be clear: Buy now, Subscribe, Download. If your CTA is a text, it should be short: 1–5 words. If it is a button, then it should be conspicuous or at least clearly visible.
Conduct A/B Testing With Email Marketing Service
A/B testing might seem one of those daunting tasks, that only sharp cookies can accomplish. But actually, it's simply the choice between two versions of one product — A or B. It allows you to check your hypothesis and understand whether a particular change will benefit, by comparing the original version with the modified one. Anything can undergo A/B testing — webpages, applications, and of course newsletters too. Subject lines, call-to-action buttons, images, text content, delivery times, message length — you can A/B test all those elements and learn what works best.
Make Emails With a Perfect Subject Line
A subject line is the face of your newsletter. The first class, catchy subject line results in opened emails. Bad subject line results in dragging your newsletters into the Trash folder. We advise making the subject line no longer than 40 characters. Such length guarantees that your subject line will fit a mobile screen. Include attention-grabbing keywords at the front of the subject line followed by the explanatory phrase with a colon in the middle. Avoid CAPS LOCK, emojis 😭 and exclamation marks!!!11 Remember, it is the subject line that attracts attention to an email.
Pay Attention to an Email Preheader
A preheader is a short text that follows the subject line. It's one of the first things you see while scrolling down the Inbox folder. A preheader briefly explains a topic of a letter and gives people a reason to keep reading. Together with a subject line, a preaheader holds the reader's attention and encourages them to open an email. That's why these two are the most important elements of an email. Preheaders are usually about 85–100 characters in length. However if you want your preheaders to surely fit a mobile screen, keep them in 30–80 characters range, placing vital information at the beginning of the text. To make a preheader more effective, you can include CTA in it, offer some incentive, or summarize the body content of your newsletter.
Optimize Your Emails for Mobile
Statistics show that 45.97% of emails are clicked on mobile devices, says GetResponse. It means your newsletters' templates should be done in a mobile friendly way to look good on smartphone and tablet screens. Also keep in mind, that a subject line and preheader should be short to fit the screen.
In case you are designing your own template from scratch
Be sure to store all the texts, images and buttons inside a single column container
Use larger fonts
Make large buttons
Get rid of hyperlinks
Don't overload email with visual elements
Keep paragraphs short
Learn to love bullet points and lists
And the most important! Make use of white space here and there. It is thanks to white space that readers know where to look. Keep the template's elements spaced out from each other, let the air be, let the page breath.
Luckily, if you are using TruVISIBILITY Messaging App templates, there's nothing to worry about. All of them are responsive. You can also create newsletters from scratch using a visual builder. Easier than WPForms for Wordpress!
However, making a mobile friendly email is not just about the design story. Mobile users often check email on the run, and shorter messages are easier to read on mobile screens. So curb your literary talent and get straight to the point, because: «No time to explain. Get in the car!»
Track the Success With Email Marketing Tools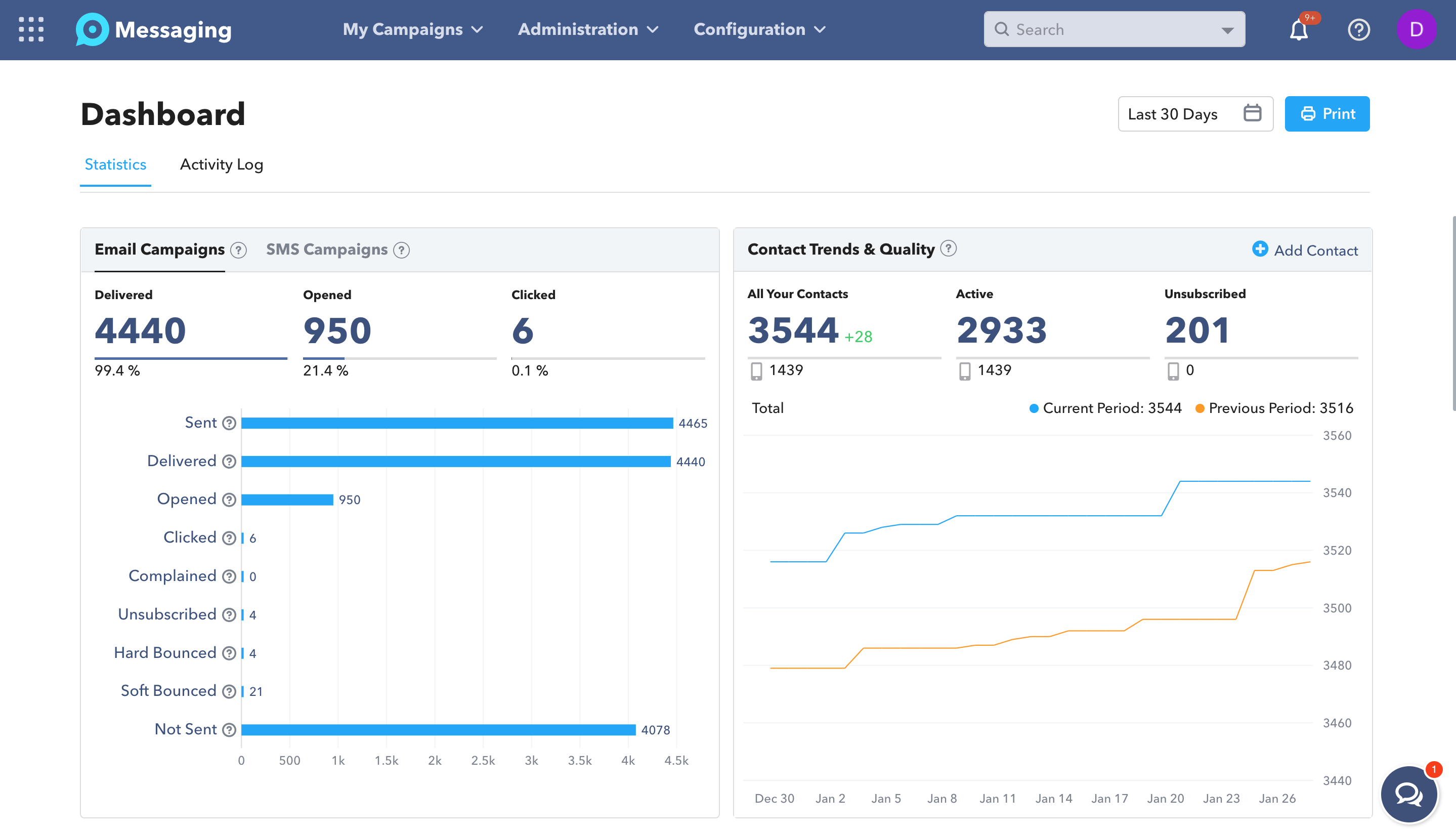 There are a lot of email marketing tools that help you to estimate the efficiency of your email marketing campaign, to figure out what you are doing right or wrong. Here are some of the key metrics and what they show.
Open rate — the number of opened emails, helps you to assess the general efficiency of your campaign
Bounce rate — the number of emails that have not been delivered due to technical issues
Unsubscribed rate — the number of contacts that do not want to see your newsletters anymore
Active — the number of contacts that interact with your emails
By subtracting the number of active users from the total number of contacts, you will find out how many inactive subscribers you have. And then try to re-engage them.
All those metrics are available in the TruVISIBILITY Messaging app dashboard.
Be Conversational in Email
A hard-to-read text is hard to comprehend. Therefore write your newsletters in a conversational manner. How to relax your mind and start writing in a human way? Well, imagine yourself sitting with your friends and talking to them. See your customers as friends too. Be simple, friendly and approachable. Drop stiff formality, jargon, and acronyms. Then your email marketing campaigns will be successful!
Personalize Everything in Your Email Marketing Campaign
«To whom it may concern» is an absolute no if you want to make an effective email newsletter. People don't like such stuff and they do deserve to be treated in a warmly personal way. Of course, you cannot send a personally composed letter to everyone from your mailing list. But luckily TruVISIBILITY Messaging app allows you to use merge tags that make your content dynamic.
But personalization is not only about greeting. Create effective email marketing campaigns with target at specific audience based on their age, sex, demography, geography, etc. Just make use of whatever personal data you have to segment your audience for a more personal approach.
Keep Text in Your Emails Brief
Modern people do suffer from information overload. Their average attention span is only eight seconds, states Microsoft. You have to fight for people's attention. You have to get it and hold it. That's why your message should be clear and brief. People have neither desire nor time to enjoy your piece of literature in the form of an email. So get straight to the point! An email length should be 50-125 words, suggests Campaign Monitor.
Segment Your Audience To Make Email Marketing Work
An audience segmentation allows you to aim emails at specific groups of people and hence build personal and trustful relationships with them and make relevant valuable offers. In 2017 Mailchimp conducted a research that proved the obvious truth: segmented campaigns that target audience are extremely more effective than non-segmented. It turned out that
Open rate: 14.31% higher than non-segmented campaigns
Click rate: 100.95% higher than non-segmented campaigns
Unsubscribed rate: 9.37% lower than non-segmented campaigns
All segmentation scenarios that Mailchimp studied saw an increase in open and click rates. Similarly, targeting subscribers with some form of distinguishing merge value — such as interest, work title, geography, and so on — aided in lowering misuse and unsubscribe rates, Mailchimp states.
TruVISIBILITY Messaging App allows you to break your mailing list according to condition based rules. Try this tool and will see that it does a great job!
Use Lead Magnets for Email Marketing Campaigns
A lead magnet is a free offer, a giveaway, that benefits your prospects. In order to get it the prospects have to share their personal data with you, for example, an email address. What can you offer? For instance, an ebook, a webinar, or even a quiz results. Want to know what celebrity you are today? Take a quiz and get results by email. Using lead magnets is an effective, proven email marketing strategy to attract leads build mailing lists.
In many cases lead magnets are placed on landing pages and inside popup windows.
Re-engage Inactive Subscribers
Not all of your subscribers are active. Some are alive, receive emails, but don't bother opening them. Those are inactive subscribers and they can be re-engaged. In the email marketing software that you use
Go through your mailing list and identify the inactive subscribers
Group your inactive subscribers into a new mailing list
Compose personal marketing emails for them and offer special incentives. Ensure your subject line asks them to come back
Some of your inactive subscribers will respond. But some will keep being silent. Don't hesitate to unsubscribe those non-responders to keep your mailing list tidy and neat.
Automate in Email Marketing Everything You Can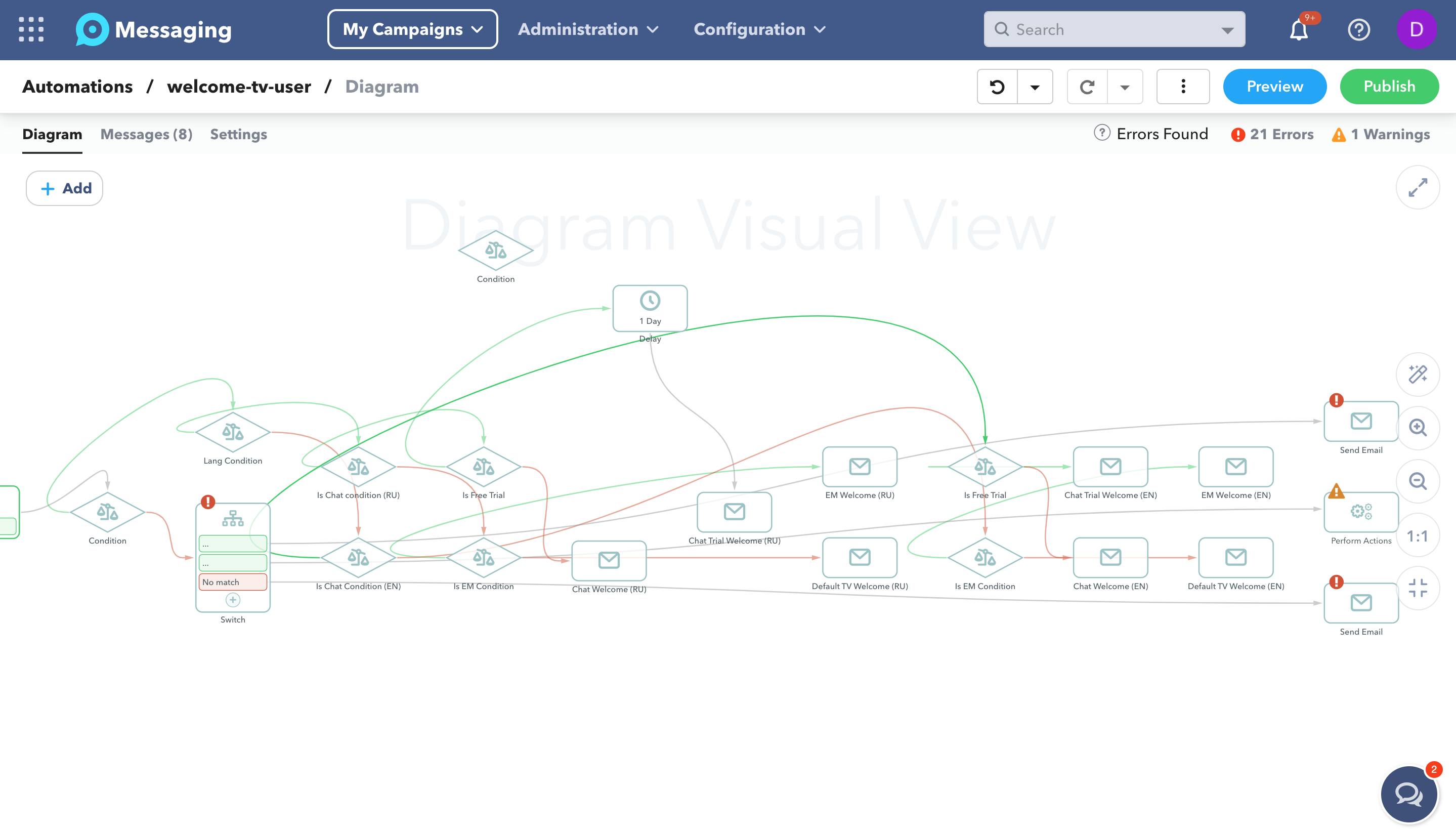 We all have just 24 hours a day, so if you can automate something with software — then do it. And have a field day. The simplest example of automation in email marketing is a scheduled launch of email blasts. Spend some time making several email campaigns for a couple of weeks ahead. Then set up a delayed start for them to launch automatically according to the schedule. Most email marketing websites have the corresponding function.
Another example is an autoresponder, the type of email that is sent upon a trigger in response to an external event, such as contact birthday, new blog post being published or order shipped.
With TruVISIBILITY Messaging App you can do even more. The Automations tool enables you to build complex scenarios for your email marketing campaign tailored to any objective: generating newsletter subscriptions, closing a sale, or onboarding a new customer.
Conclusion
Some people ask, does email marketing work in 2023? Today, when almost every email service has sophisticated spam filters and people spend more time in online messengers than in email clients — does an email campaign make sense?
Well, according to experts from Forbes, email marketing is alive and kicking, and even has a bright future. They are sure email marketing is to become increasingly more significant as time goes on, especially given how simple and inexpensive it is to use. It allows you to reach more people, stay in touch with current and potential clients, getting useful data insights, take a personal approach in B2C relationship and much more.
But, hold on a second! Why bother about the future of email marketing if you can just try it yourself right here and now? You already know everything you need to launch a highly effective email campaigns. And TruVISIBILITY platform offers you all the tools you need.
Have to pay anything? Not at all! Just sign up for a freemium TruVISIBILITY account and get 1000 free emails monthly. It's not trial by any means, but full-fledged software. Together with email marketing service TruVISIBILITY Messaging you get other apps of All-in-One digital marketing suite: Site for building landing pages and websites, Chat for creating AI chatbots, Blogs for making blogs!
Want to receive more articles?
Sign-up for our weekly newsletter to receive info that will help your business grow