Email automation can do so much more for a business than simply improve results from their marketing strategy overall. Sure, it can save time, but are there many downsides?
You may be wanting to save money, even saving dough on employing an entire marketing team, but you don't want to risk losing leads and loyal customers by sending mindless (and sometimes impersonal) marketing campaigns.
Not to worry. We will walk you through how you can maintain that customer list and even boost your lead conversions with email automation.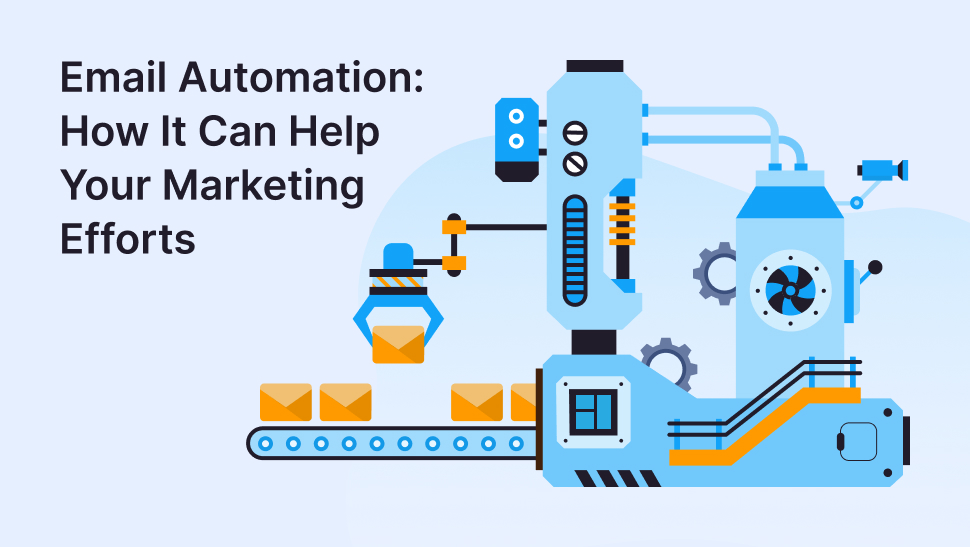 Table of Contents
Why Start Email Marketing?
Email marketing has so many benefits. And it can work for all types of industries.
According to MarketingSherpa, 91% of US adults like receiving promotional emails from companies where they do business. So not only do people frequently check their email, but they want to receive email.
You Can Reach the Right Audience
Automation allows you to hit your target audience wherever they are. In fact, research has shown that people spend 30% of their time at work and 50% of the time working from home on checking email. That's a lot of time spent in the inbox!
Email marketing software can help ensure your email gets to those people and gets opened.
You Can Track Data
Knowing what works is great. You can continue building your future email campaigns based on previous success. Equally as important is to recognize where you can improve the emails you send.
With email marketing software, it becomes easy to gather such data by tracking conversion and click-through rates. So how do you know when your subject line works or not? Or if your background image catches the eye of leads? Through A/B testing.
When you see an email with a great click-through rate, use that as a base for future sends. For example, if you notice an email with an image performs really well, use a similar compelling image in the next email.
TruVISIBILITY's email software allows you to send separate emails to your contact groups with some key differences in each email campaign - but with the same message. Whichever email performs better among audiences will give you insight on which element is a winner. Was the better CTA button in the email? The brighter images of your products?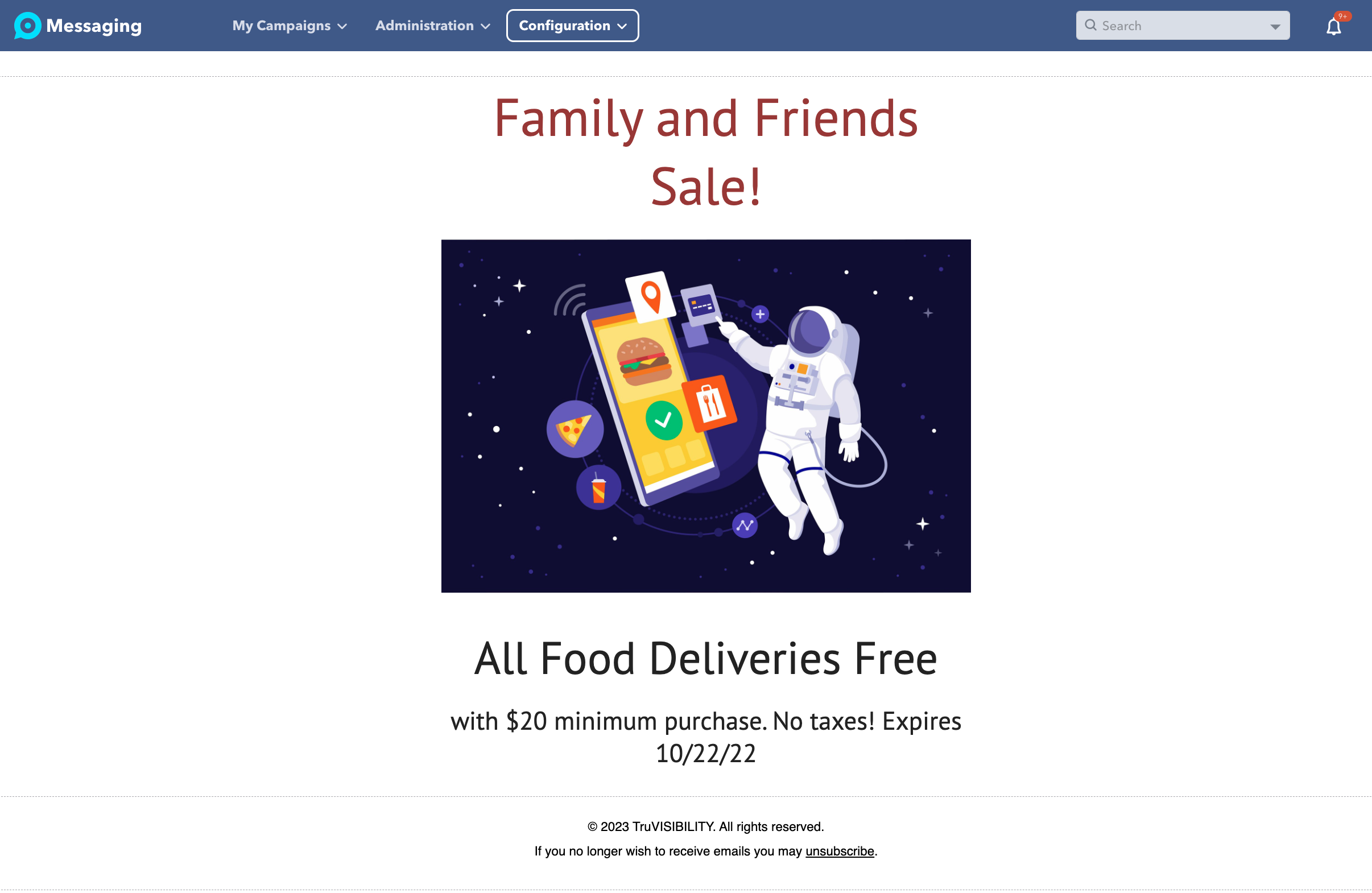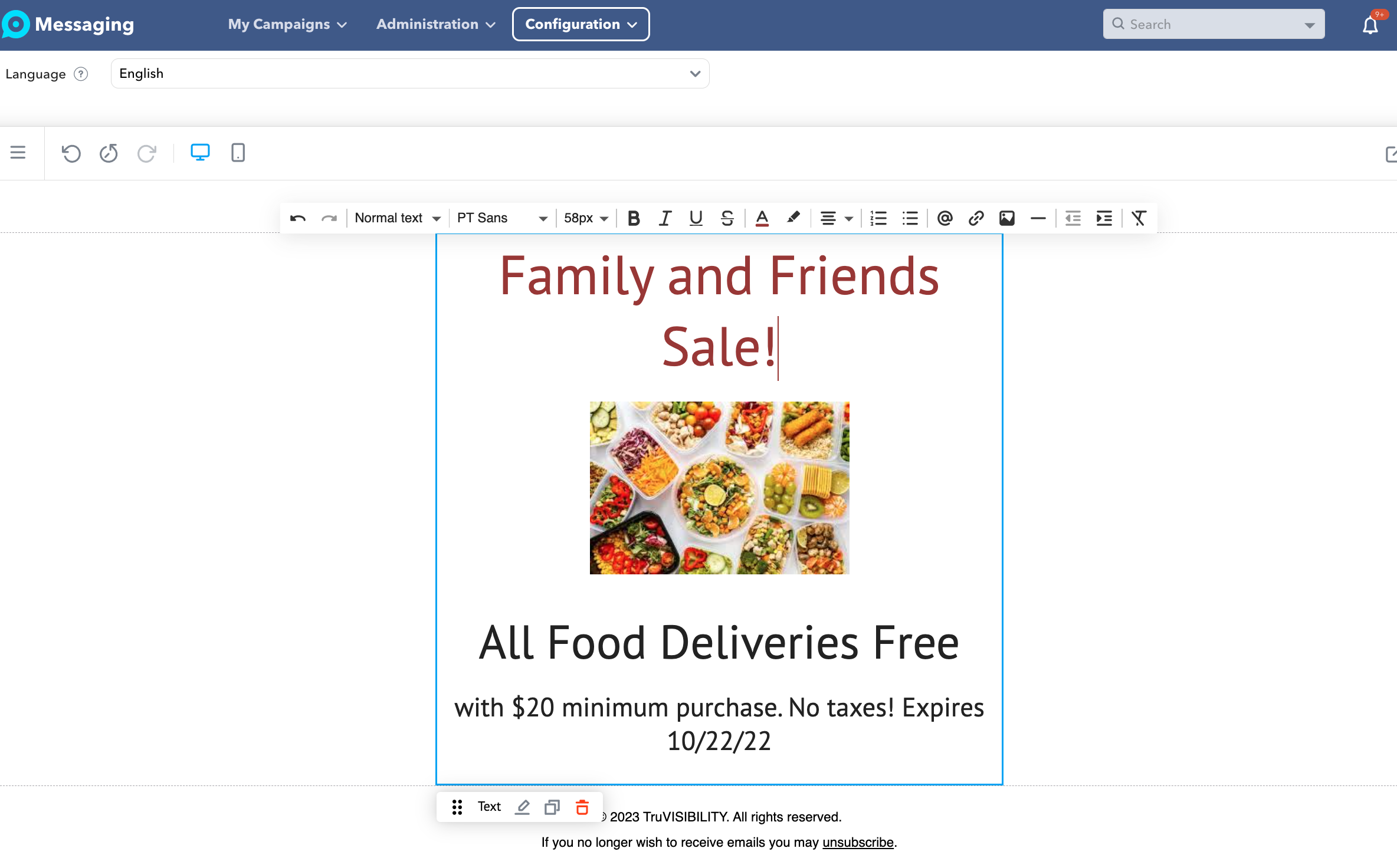 Increases Brand Awareness Consistently
This consistent outreach translates into people more easily thinking of your business when they need your services. The key word here being, "consistent," not, "irregular." If you email your network once or twice a year and it's only ever to promote your business, you'll likely see very low engagement.
Focus on regular communication with content that's interesting and relevant to your audience. By providing applicable and relevant information, you're positioned as an expert and show your audience you care about them beyond making a sale.
It Is Cost-Effective
One of the most appealing benefits of email marketing for small businesses is affordability. Your emails can reach hundreds or thousands of people at a minimal cost to you. The return on investment in email marketing has generally shown among most businesses to increase year-over-year.
Mailing flyers, setting up events, and hiring help are all expensive ways to market your business. They certainly have their value, but they aren't something most small businesses can do on a regular basis. At least, affordably. Email, however, can be done on a regular basis with any business budget.
This isn't to say email marketing can't get expensive over time, especially if you grow into a large business. What is important is to focus on the ROI, return on investment. If your email sending costs $10 a month, and you are gaining about $1,000 in sales each month, then your ROI is 100!
What Is Email Automation?
So how can email automation help you? What even is it? It is exactly as it sounds - automated emails. If you've got thousands of people in your sales pipeline, it's impossible to write out individual emails for everyone that signs up. This is where automated emails come in to ease this time-sucking task… while also keeping a happy relationship with current customers and leads.
Automated email marketing is a series of emails you automatically send to your prospects or customers. Using an autoresponder, you can schedule emails to send based on your audience's interactions with your business.
For example, when someone signs up for your newsletter, you can automatically send out an automated welcome email.
It's not all that easy, though. To be effective with automated email, what you're producing should be far from spam. Instead, it's high-quality, personalized content that your audience has signed up for.
How You Should Use Email Automation
What types of emails can you send automatically? Any email that doesn't warrant much (or any) personalization for your contacts can be automated, making time for you and your marketing team to focus on other marketing avenues.
Welcome Emails
When someone signs up for your email communication, it's a good idea to send out a welcome email.
You can't monitor every time someone signs up for newsletters. This means every business should consider starting the new relationship off on the right foot - by automating a warm welcome email.
It allows you to set expectations and explain the value proposition of receiving your emails. Once someone has a good idea of what they're going to receive from your emails, they're more likely to open them and interact with your business.
Abandoned Carts
Just because someone isn't ready to buy today doesn't mean they won't be soon, and an automated email is a perfect way to keep them engaged.
When someone abandons their cart, you can schedule an email to go out to them, prompting them to return and complete their purchase.
TruVISIBILITY has just the template for such abandoned cart emails. To get started setting up this kind of automated email, check out our support article here.
Newsletters
Once someone leaves your website, you may never see them again.
If you've got their email address, you've got an opportunity to keep the connection alive and build a relationship (hopefully until they become a repeat customer). Just having someone's email doesn't achieve this, though, and instead, you've got to be able to offer something valuable.
When you send a newsletter, you're offering your valuable content to keep the relationship with your subscribers (whether they are leads or loyal customers) strong.
Promotional Emails
Promotional emails exist to market your business. It can be focusing on a new product, service, discount on everything on your ecommerce site, etc. It's no good spamming them with links to your product all the time because your audience will simply treat it as spam.
To get the maximum value from this, you want to make sure your promotions are part of a carefully planned email series. It's nearly impossible to do this without automated emails… or at least, it would take a very long time to design and plan without automation.
Customer Complaints
This type of message may seem like it shouldn't be automated, however, the first email in response to a customer's question or complaint can be automated.
Such an email gives comfort to the customer, ensuring that your business received the complaint and will plan to address it in a timely manner. Here's an example of such an automated message:
How Do You Set Up Automated Emails?
Automated emails do not necessarily mean you click a button and they are automated. You do have to do the following to set up email automation:
Make sure your contacts are segmented the way you want (to receive automated emails)

Design the different emails (or set up email templates) you'll use for automated emails

Set rules for the emails you wish to be automated, such as "Anytime someone signs up for newsletters, they receive this automatic welcome email and discount for our online shop."

Remember to ensure deliverability and check data to see how well of a response your automated emails are getting.
Every email marketing software out there has different ways to connect contacts and rule-based actions to automated emails. And not all email software offers automated emails as an option!
It can get extremely tiring to design and schedule to send each email, whether it's to an individual contact or group of people. TruVISIBILITY offers email automation entirely free in their Messaging app, which you can use for as long as you wish to use the platform!
Want to know how easy it is to add an automated email in TruVISIBILITY's Messaging app? View these quick steps.
How Can You Maximize Email Automation?

According to startupbonsai.com, about 65 percent of businesses use email automation. If your business plans to use automation in any way for marketing purposes, there are a few ways to ensure you're maximizing your efforts.
Write Personalized Copy
If you're writing everyone unique emails targeted just to them, then switching to automated email marketing naturally reduces your level of personalization. Each email won't be unique, but it can still be personal.
Segment Your Contact List
As you begin collecting more information about your audience, you'll start segmenting potential customers into different lists. By segmenting your subscribers based on their industry, location, and how they found you, you'll be able to deliver more personalized emails.
Split Test Emails
When you first start email marketing, it'll take some time to figure out what resonates with your audience. One of the best email marketing campaign strategies is split-testing (or A/B testing) your emails, which we lightly covered earlier.
In A/B testing, you send slightly different versions of the same email to different groups of subscribers. For instance, you may send the same email but test out two different subject lines, or you may try out a different call to action (CTA) to see which one is the most effective. Over time, you'll begin to gather the information that will help you create better campaigns.
Make Emails Optimized for Mobile
About 46% of people check their email on mobile devices every day. For that reason, every email you send should be optimized for mobile devices.
Using TruVISIBILITY's Messaging app when designing your email campaigns, you can view how your campaign will look in a mobile format, whether it is mobile phone or a tablet.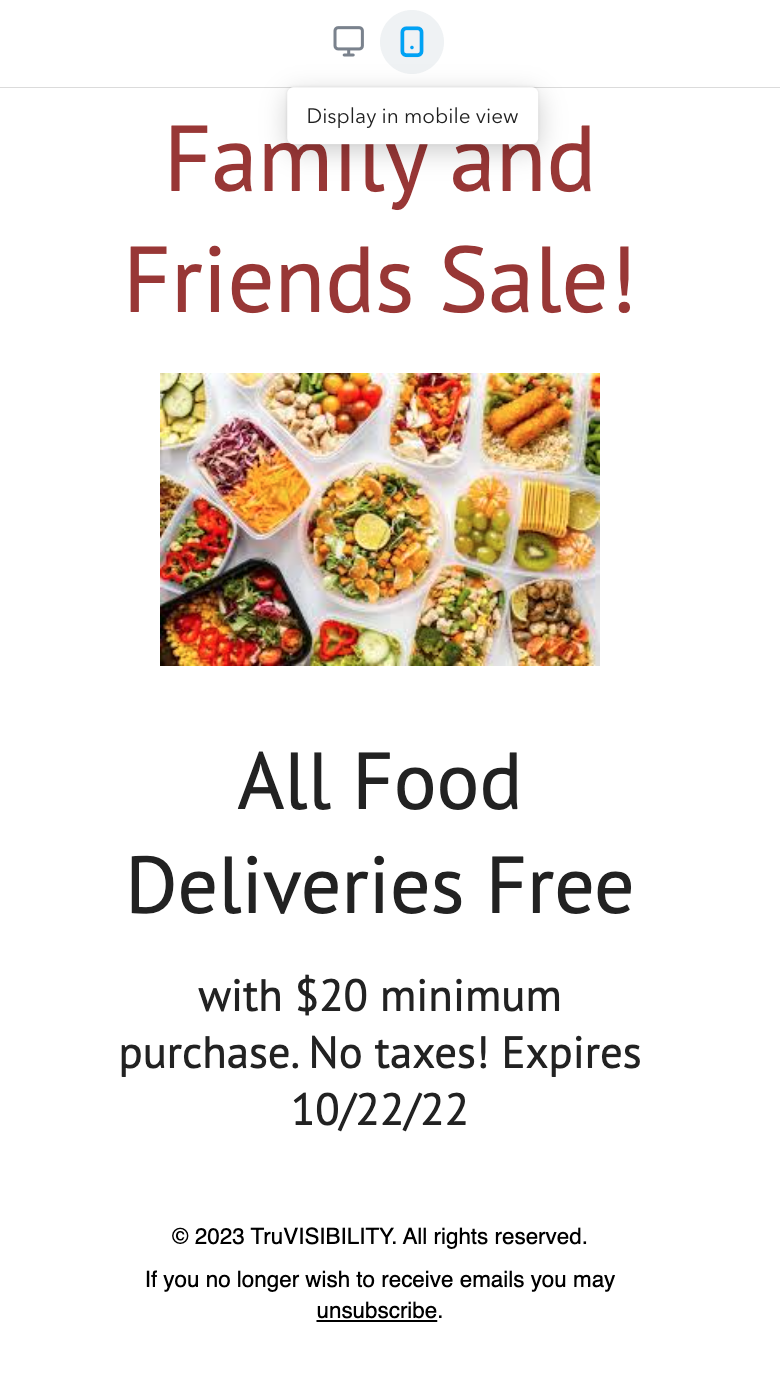 Have a Call-to-Action

Every email should have a call to action. This doesn't mean you should always try to get your subscribers to buy something. Pushing leads or customers to make a purchase too often can actually deter them away from your future emails.
Often, the CTA could be something simple, like checking out a recent blog post you wrote or following your company on a social media channel. Keeping leads and customers engaged in any way is good for brand recognition.

Follow Anti-Spam Laws
Make sure you comply with the FTC's anti-spam laws for commercial email. These rules require that you provide your name and address at the end of every email, and give subscribers a way to opt out of future emails.
If you violate the CAN-SPAM Act, you may have to pay fines. How much? See our other article about how to follow anti-spam laws here.
Conclusion
Now that you know the benefits of setting up automated emails, you can start designing emails to send to your contacts. TruVISIBILITY's email software is specifically created for businesses of all sizes and industries to send automated emails to clients and leads.

Sign up to see how fast you can start creating campaigns and sending them to your contacts for free. Still love it after a month or so? Continue to use it for free!
Want to receive more articles?
Sign-up for our weekly newsletter to receive info that will help your business grow