There are plenty of reasons to use a template to help build your website. The best templates allow you to change colors, background image sizes, and add more sections to your webpages as you see fit.
But how do you make sure you're optimizing the template to best portray your business's website? We have several ways you can ensure your website is unique and still matches your brand and message.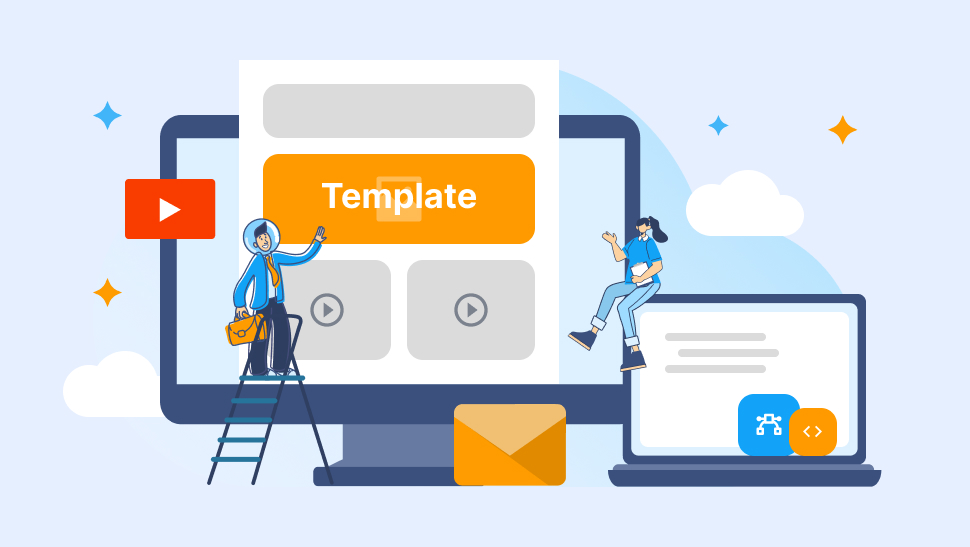 Table of Contents
Why Use a Template to Build Your Website?
Many small and growing businesses find themselves at a loss in terms of creativity or coding knowledge. Often, startups have a limited amount of funds to put towards an entire website designed by a digital marketing agency.
Businesses can have a team of marketers create a website with even a free builder that offers a variety of useful templates based on your industry or desired message, such as:
Ecommerce site

Business consulting

Artists and entertainers

The automotive industry

Salons

Medical clinics

Creating web pages for downloading content
It's vital to keep in mind that to bring in customers and leads, you should never forget to create or connect a landing page to your site. It's even faster and simpler to create a landing page (or use a landing page template!) for your site. We recommend choosing a software that allows you to do both. You can create a website and multiple landing pages with TruVISIBILITY's Site app for free.
How to Best Use Templates to Build a Site
What should you definitely do to ensure you're utilizing every benefit of website or web page templates? Here are the top 6 things you can do to maximize the use of a template for your website.


Match Your Brand
Your website is an opportunity to make a statement about your brand identity. When customizing your template, you don't want to just look different for the sake of looking different from the default template or your competitors. By bringing your company's unique branding into your digital presence, you're reinforcing what makes your business unique.
Obviously, your first step is adding your business name, tagline, logo, and other aspects of your brand. Be sure to replace placeholder copy with text written in your brand voice. The same goes for stock images, any icons, animations, and so on — these are all invaluable opportunities to tell your brand story, so don't waste them!

Choose a Unique Color Scheme
The color scheme can impact your site's accessibility, brand identity, and user experience. Instead of sticking with a template's default color scheme, choose new colors for your website.
Look into color theory to decide which colors go together. Sure, you can use your brand colors. But after adding your logo, the background colors on your pages can evoke the feeling you want from your visitors.
Color theory is how colors work together to create a pleasing design. Color psychology is also something to consider. How do colors portray your business? Orange brings to mind a fun, vibrant vibe that perhaps is geared towards kids or creatives. Purple is more popular among women while brands that have blue as a predominant color bring in more male customers and clients.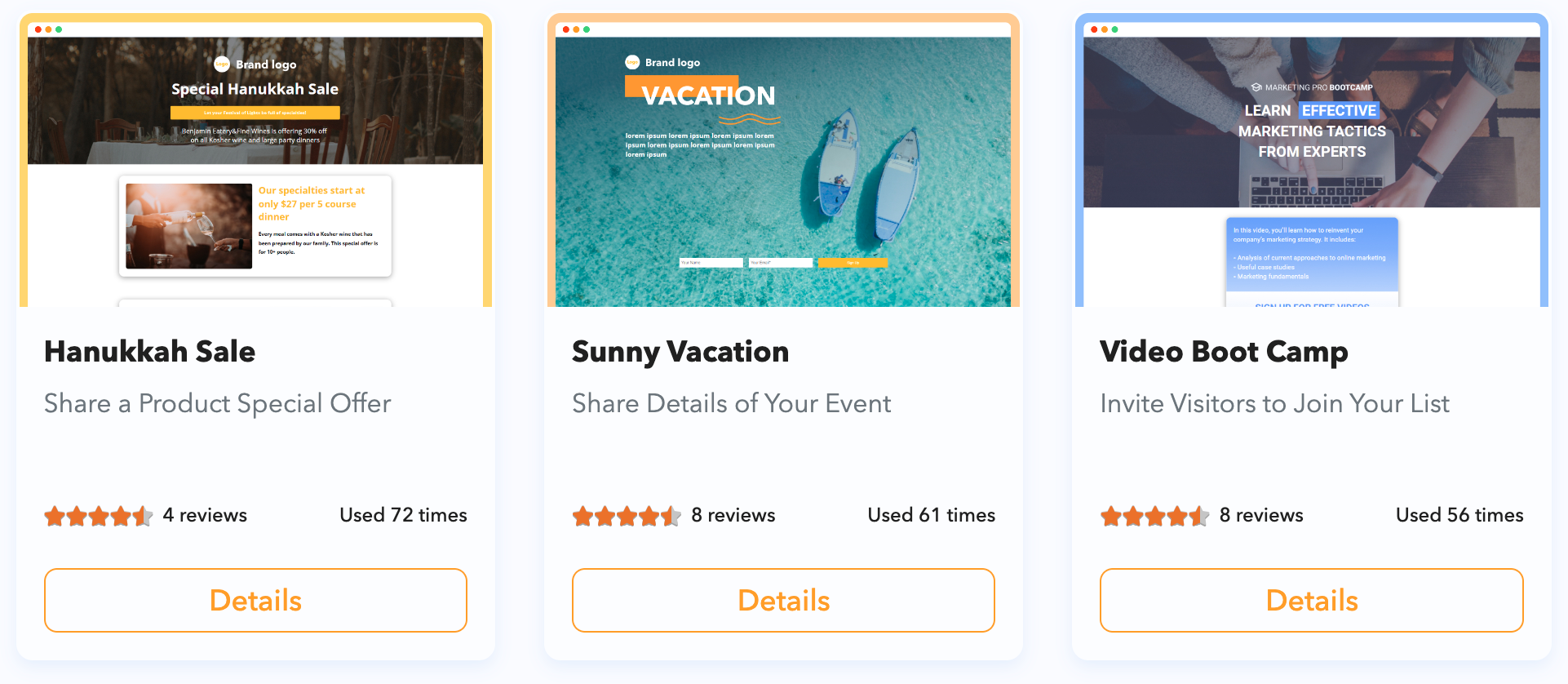 Choose the Right Font
Templates often give dozens of options for font size. You can even italicize and bold all text. However, we suggest sticking to two or three font types to create a visual hierarchy using different font sizes. This way, visitors won't be confused as to what the next section, topic, or header is.

Your font choices should also be accessible, meaning they have sufficient color contrast and are legible across multiple device types and screen sizes. User experience is your main priority, and users are going to quickly leave a site with an overly complicated, tricky-to-read font.
Make Your Website Skimmable
Sorry to say that all the work you do to create great content for your website will be lost on some (or most) visitors. You should definitely create great content. This at least shows professionalism and that your business offers great value to customers.
Unfortunately, a lot of the text will be looked over. This means you'll have to design your site with scannability in mind. That will require you to:
Limit the amount of text

Use

negative space

Incorporate images and videos

Create a visual hierarchy

Select readable fonts

You don't always need to write the length of a paragraph that is given to you in a template. With short paragraphs, valuable imagery, and visually different font sizes, you can make your website more absorbable by visitors.
Have Clear and Simple CTAs
Try to present visitors with the clearest information and options. Simplifying your navigation and making your CTAs stand out are great starting points. Your copy also contributes to this: the more concise, the better.
Nothing is worse than overloading your visitors with videos (especially long videos) or tons of images without any text or explanation of what they are.


Update As Needed
You can choose the best template ever and customize it to perfection, but you should still be prepared to update to meet your visitors' needs and expectations as they change over time.
Furthermore, as new web design trends pop up and the technology you used in your original site becomes updated, you may have to pivot and evolve your site to fit the times. For example, visitors have seen tons of websites with the same hamburger menu, perhaps. Change it up!
You will figure out when to design your website after doing the following:
Performing A/B tests

Implementing strategies that you see work for your competitors

Gathering and implementing feedback from your customers

Auditing your site
When it's time to give your site a makeover, you don't have to navigate the process alone. TruVISIBILITY is open to help you personally with your site to ensure it is working by inviting visitors, keeping customers, and reducing your bounce rate.
What Not to Do When Choosing a Template for Your Site
There can be mistakes when building a business website from a template - and we're here to make sure you don't copy what unsuccessful companies do with site templates.
Here's a list of the top four things you should avoid.
A Template that Doesn't Meet Your Needs
Figure out what you want and what you need from a template. What made you decide to choose a template? Figure out what you'd like to see from your website. Want a recognizable font and background logo, such as Target's website with their signature red and white target logo and product imagery on the homepage?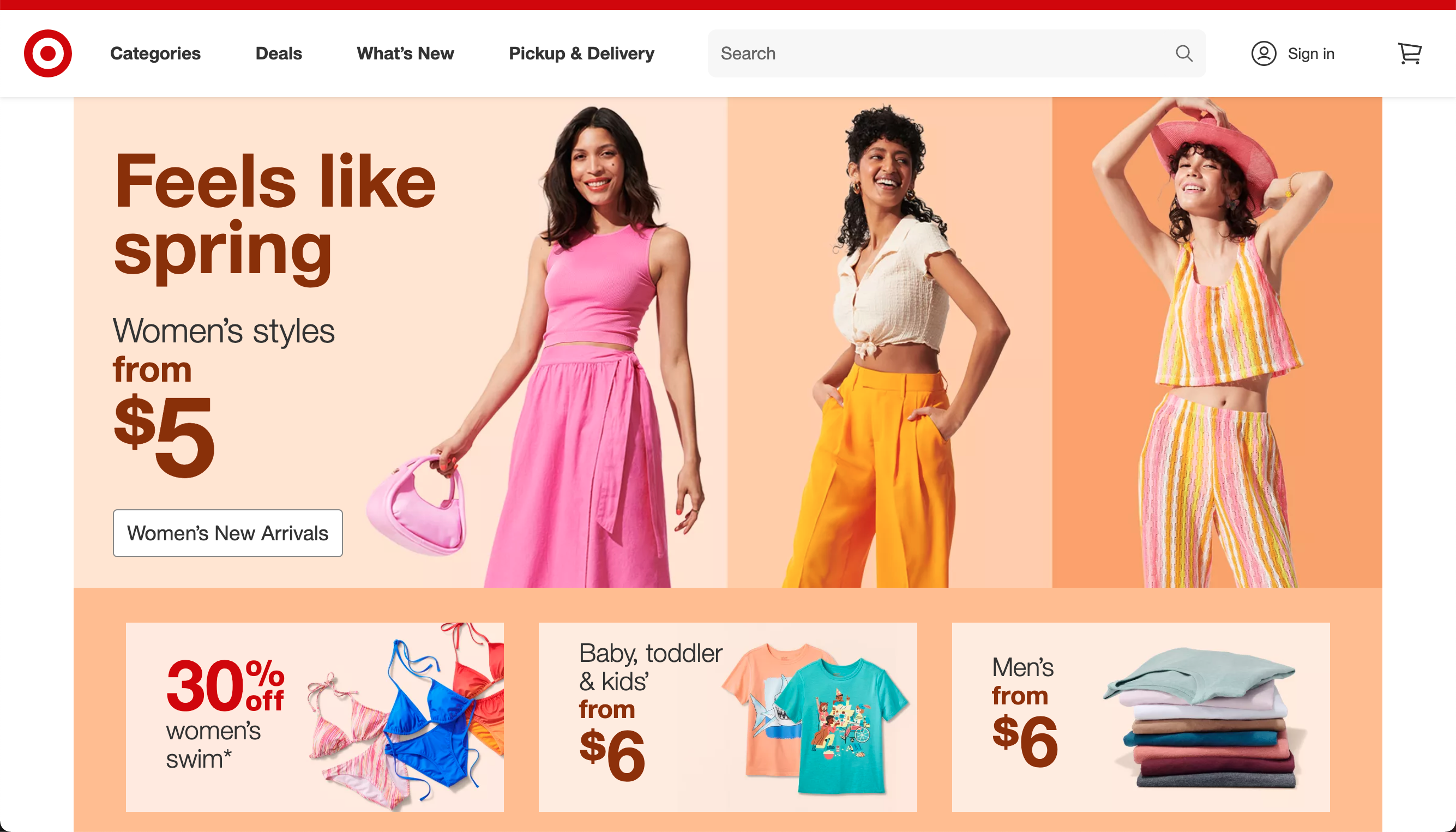 Here are some factors to consider when evaluating website templates:
What's your budget?

Do you need a template or theme?

To what extent is this template customizable?

Does this type of design reflect your brand personality?

Is this template responsive?
When you decide your goal from a site, we suggest looking at your competitors' websites to see how they achieve a similar goal with their site design. Then simply find a template that you can use to create your own version of that site - but never copy another's website. You want yours to be unique!
Getting a Template with Unresponsive Tools
Nowadays, almost all pre-built templates and sites are advertised as responsive. However, some have non-responsive elements (such as text and shapes) that do not adjust based on screen width.
Others have non-responsive layouts with fixed elements, like a fixed navbar, that will not be scrollable when the viewport becomes narrower than the page content, like on a mobile device.
Choosing a Template with Branding
A template, even a free one, doesn't automatically mean poor quality. In fact, some of the best website templates are entirely free to use. However, a free template often displays the logo or other branding of the theme developer, which can make your site seem less professional.
In some cases, editing the branding of the theme developer is as simple as clicking the "delete" button on the logo. Make sure, however, you are not violating guidelines with the software developer if you can do this. Sometimes it is worth it to pay a bit more each month for the opportunity to get rid of site template branding.
If you're using a free template, you may be required to include the developer's branding. Sometimes you can avoid this by simply purchasing a paid version of the template.
Don't NOT Customize an Overused Template
If your website looks like everyone else's, you risk losing visitors who came to your site to see what your company uniquely has to offer.
Squarespace has some of the most used templates used. And perhaps it is hard to customize them for websites, but most photographers and other artists simply use the same template. They all look the same now.
Prevent this by getting a template that you don't see a lot of websites use. TruVISIBILITY has a set of templates for all types of websites that are developed and created to look unique from the ecommerce, blogger, and even salon and medical clinic websites you often see out there!
Get the Best Unique Templates for Your Landing Pages and Website
TruVISIBILITY can help you build an entire website through the Sites application. These templates are designed to work with your landing pages so that you can bring in leads - and convert them!
This brings us to one last point. Make sure your website template has room in its design for a matching landing page!
Conclusion
Hopefully you've learned how to adjust templates to suit your website needs. There are countless ways to design a web page with different types of menus, widgets, fonts, colors, etc.
The key to ensuring your template best serves your business is to choose a solid website builder - especially builders that give you the option to connect landing pages. Check out TruVISIBILITY's Sites app today for free to use drag and drop technology to start creating your site.. Like your website and landing page design? Keep it for free… for life. No strings attached.
Want to receive more articles?
Sign-up for our weekly newsletter to receive info that will help your business grow